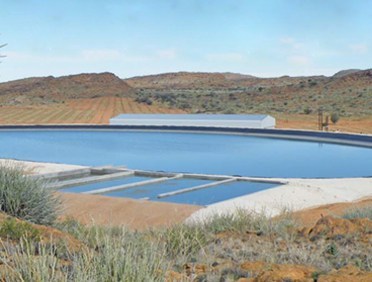 Case Study – Irrigation scheduling offers peace of mind
Irrigation scheduling at Karsten has proved so successful that the group is saving up to 34% water — and is learning to tweak the system to enhance crop performance. Robyn Joubert reports.
Karsten, one of South Africa's largest irrigation farming enterprises with 11 farms in the Orange River region and nearly 2000 ha under irrigation, has made considerable progress in optimizing the use of its precious water allocation. At their Keboes Fruit Farm units in the Upington area, accurate irrigation scheduling has led to water savings of up to 34%

Founded by Piet and Babsie Karsten in 1968, Karsten produce mainly export table grapes on 1082 ha on nine farms on the banks of the Lower Orange River between Upington and Klein Pella, along with wine and raisin grapes, citrus, dates, watermelons, sweet melons, maize, wheat, potatoes and pomegranates on nearly 900 ha. In Ceres, they farm deciduous fruit on 187 ha along with nuts, corn, wheat and vegetable seeds on 1000 ha in nearby Prieska, in the Northern Cape; along with 90 ha and 30 ha table grapes in the Hexriver Valley and Piketberg respectively.
The enterprise also owns packing facilities, export and logistics companies, an import and distribution business in the UK, as well as production and pack house facilities in Egypt.
Karsten agronomist Willem van Aarde says there were a number of motivations for Karsten to look at water-saving techniques. One of these was pressure to farm in a more sustainable manner. "We feel increasing pressure from both local and overseas supermarkets to protect the environment and conserve our natural water sources. Added to this, the cost of electricity has increased enormously over the last few years. Irrigation pumps use a lot of electricity, so the less and the more accurately we irrigate, the less electricity we use," says Willem.
Karsten has introduced a number of water optimizing measures. These include using maize and wheat straw as mulch in the vineyards to prevent evaporation from the soil surface and to improve the soil's water holding capacity over time, and the automation of irrigation systems to make it easier to manage irrigation scheduling. All Karsten's dams are lined with 2 mm high-density polyethylene to prevent water loss. On some of the bigger farms, flush water from the irrigation systems is pumped into settling dams where the clay and silt in the water sinks to the bottom, allowing the water to be reused for irrigating a few more hectares.

But the introduction of a new irrigation scheduling system has had the most significant impact on water use. Until February 2008, Karsten relied on neutron moisture meters for irrigation scheduling.
"These meters are very accurate but the process was time consuming. The readings gave you information about a single moment in the soil, and we had no idea about what happened in the soil between measurements. We wanted a system that could do continuous logging and give a clear picture of what goes on in the soil at different depths," Willem said.
In 2008, they began installing the first of 500 DFM soil moisture probes, purchased from DFM Software Solutions at a cost of around R3000 each, and a software programme called IrriCheck, developed by Bertus van der Westhuizen from Farmsecure Agri Science Irrigation (FASI).
IrriCheck automatically draws the weather forecast from the internet and actual weather data from an automatic weather station, and calculates the actual evaporative demand and the expected evaporative demand. One person on each farm is responsible for downloading data from the probes every Monday and Thursday onto a wireless logger, which is then plugged into a computer and the data is downloaded onto IrriCheck.
A team of four Karsten agronomists visit each farm on a weekly basis, making any necessary adjustments to the software and providing each farm manager with an accurate weekly irrigation schedule. "They dig a few soil profile holes every week to double check the system and to make sure the recommended irrigation schedule correlates with the current soil moisture levels," Willem says.
The system enables Karsten to determine the maximum safe moisture depletion level, to maximize the irrigation intervals and minimize evaporation losses. "We over-irrigated a lot in the past. The more accurate irrigation spells help to create favourable soil conditions with more oxygen for root and microbial life," says Willem.