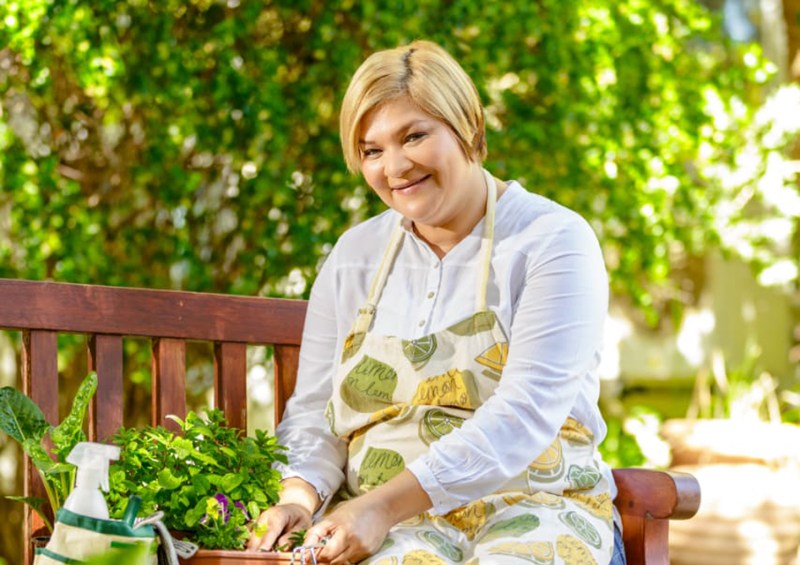 Agri-worker goes from retrenchment to award-winning entrepreneur
When Eugene Simons was retrenched in 2004, along with her husband who worked at the same organic farm, all she thought about was her next move. Instead of retaliating with anger, she chose to react differently.
Today, she runs an award-winning agribusiness which produces five to six million seedlings annually and supplies several community gardens and households. And of course, her startling success doesn't end there.
Many people start planning their careers quite early in their childhood, but with Simons, it was a completely different scenario – she stumbled into hers. "After our retrenchment, my husband and I used the money from our severance package to start our own vegetable garden. It was called Alan's Veg's," Simons says.
Alan's Veg's, named after her husband, Alan Simons, is situated on the Rustenhof farm in Firgrove, Cape Town. Here, the duo and their children have been living for the past 21 years.
Towards the end of 2004, the Simons family leased 2800 square metres (the size of approximately 6 netball courts) from the farm owner, on which they planted tomatoes and other crops. "As the demand grew, we were able to expand our operation to more than 6800 square metres (approximately 15 netball courts)," Alan says.
By 2005, Alan's Veg's was a sustainable farming operation with the capacity to employ two female agri-workers from the rural community. A plus was that both women had agricultural knowledge, which benefitted the growth of Alan's Veg's.
Yet, despite showing signs of success, the agribusiness struggled to secure quality seedlings from their local nursery. "We noticed that the growth habit of the seedlings as well as the colour and taste of the fruit were different compared to the nursery's usual standard," Alan explains.
The agripreneur then saw an opportunity to start a secondary business that would supply quality seedlings to Alan's Veg's and generate further revenue.
Algina Wholesale Nursery was founded in 2009 with Eugene's daughter, Allison, overseeing the marketing for the new business. They specialise in the production of organic seedlings for commercial farms as well as small scale farmers. They also supply a number of community gardens and households.
2015 proved to be a great year for Eugene and her agribusiness. She won the 2015 Western Cape DAFF Top Female Entrepreneur award. "It was such an honor to receive this recognition and as a result of the award, Algina's Wholesale Nursery have been supplying seedlings to the Western Cape Department of Agriculture's food security projects," Eugene explains.
Since winning the award, Eugene has been serving as a judge on the adjudication panel of the Western Cape DAFF Top Female Entrepreneur Awards.
Community development has always been at the top of Eugene's action list. Her nursery provides informal training to customers as well as to the public. "Our goal is to empower women and youths with the knowledge and skills to grow their own vegetables," she says.
THEY ALSO WORK WITH NGO'S AND NPO'S TO DEVELOP FOOD GARDENS IN COMMUNITIES THAT NEED IT.
As with many other agripreneurs, Eugene has not been spared the hardships that comes with running a business. In 2018, tough economic times and drought conditions forced her to rethink her marketing strategy and steer her business in a different direction.
"When it comes to drought, farmers tend to plant less, because they don't have enough irrigation water during drought season. As a result, farmers ordered less seedlings which affected our profits," Alan explains.
Vandalism and theft were also issues Eugene unfortunately could not sidestep. Between 2017 and 2018 she reported 14 cases of vandalism and theft at her local police station. This had a major impact on their business and left Eugene quite despondent.
However, instead of fixing her attention on what she had little control over, Eugene fought hard against the sluggish economy and started a farmer's market, called "The Market Shed".
The Market Shed is a diverse market not far from the nursery and gives local entrepreneurs the opportunity to sell and market their produce or products every Saturday. With the Market Shed the entire Simons family gets involved and Eugene's son Ashton, is known for whipping up a great breakfast at the market. In addition, Eugene, her husband and daughter provides entrepreneurs with marketing skills as well as sales skills. "I also have plans to start a learning centre that will empower and develop skills in the agricultural sector," Eugene says.
As with many other agripreneurs, Eugene Simons's road to success shows many failures, pitfalls and disappointments. But, despite crushing rejections and humiliating defeats, she's determined to grow from strength to strength and plans to acquire 60 to 100-hectare land within the next five years.
"I would like to start planting medicinal plants to enlarge our offering and expand our market," she adds.
Source: foodformzanzi.co.za