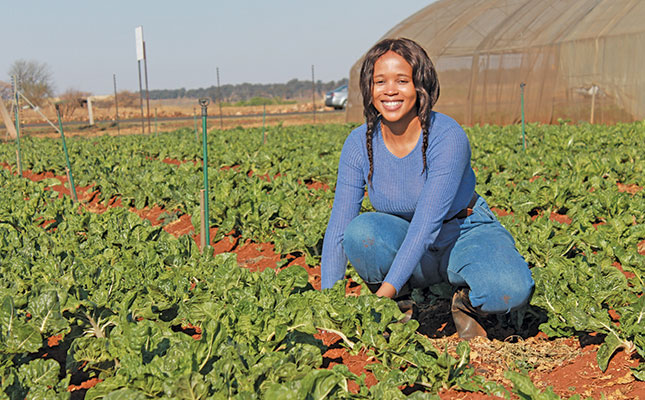 'Go after what you want' – lessons from a young spinach farmer
Gugulethu Mahlangu, who was born and raised in eMalahleni, Mpumalanga, started studying agricultural science at the University of Pretoria in 2014. After one year of study, she felt uncertain about following a career in agriculture, and switched to psychology and physiology.
But she still felt a desire to follow in the footsteps of her grandmother, who was a farmer. So, to help make up her mind, she volunteered for work on farms to gain practical experience and get a taste of what life as a farmer would really be like.
A challenging start
Mahlangu admits she felt intimidated at first, as her male counterparts kept undermining
her. Because she was a young woman, they sheltered her by giving her 'ladylike' jobs.
"No one wanted to give me real farming jobs. They thought I shouldn't work in the fields because I'd get sunburn," recalls Mahlangu.
She persevered, however, and has been able to use the lessons she learnt to become a better farmer and business person.
"I never allowed the lack of land and resources to stand in my way. I went after what I wanted, compromised, and sacrificed my time, energy and comfort to get where I am today," she says.
"The time I spent volunteering made me realise I really did have a passion for agriculture. I also learnt that farming, when done right, can be lucrative."
After volunteering, Mahlangu set about looking for land to farm, which was a challenge as she didn't know where to start. She asked for permission to start farming at a farm she had volunteered at in eNtokozweni (Machadodorp). Here she planted cabbages, but later learnt that the land had become extremely water-logged, and her cabbages had died as a result.
"I was so excited to have land with access to water that I never took the climatic conditions and production factors of the area into consideration," she says.
Farming in KwaZulu-Natal
She next travelled to Umzimkhulu in KwaZulu-Natal (KZN) to farm on communal land with
a friend who was from the area and who spoke to the chief on their behalf. Again Mahlangu planted cabbages, and this time her crop was destroyed by pests as she had failed to apply any pest control method.
She had learnt another important lesson: thoroughly research the land you intend to farm and ask for help from fellow farmers.
During her time in KZN, Mahlangu continued looking for land for herself, as she was now certain about a career in agriculture, despite her setbacks.
To earn some money, she started a small construction company, called GMS Dream House Construction. She still runs it successfully alongside her farming business.
In 2019, she finally managed to find land near Boksburg in Gauteng, signed a five-year lease, and moved there in December. She says that if it had not been for the help received from other farmers in her network, it is unlikely she would have found this land.
Getting started
Mahlangu cultivates 2ha of her 14ha farm, growing Fordhook Giant Swiss chard (spinach) and turnips under shade netting and in tunnels. Drip and sprinkler irrigation were already established on the property.
There is also a 2,2kW pump, which extracts water from a borehole and fills the farm's 2 000ℓ reservoir. But because it takes up to 12 hours to do this, she hopes to replace it with a larger pump capable of filling the reservoir in three hours or less.
The property is also home to a chicken farm. According to Mahlangu, sharing makes it safer for her as there are always plenty of people and activity on the farm.
Before she planted her first crop in January this year, she carried out a soil analysis, followed by soil preparation.
"When I got the farm, there were weeds everywhere," she recalls. "I had to clear the land and do land preparation such as tilling, taking out weeds, removing large rocks and levelling ground. To do the work, I rented a tractor from a neighbour at a discounted fee of R200/hour. The normal rate is R500/hour."
Getting her first crop in the ground required a capital investment of more than R170 000. Mahlangu had to spend R100 000 on preparing the land, R40 000 on seed and another R30 000 on fertiliser and herbicides.
Before planting, she applied Atlas Organic Fertiliser's Superveg 232, and followed this a few days later with another application of NPK fertiliser.
Also before planting, Mahlangu applied Syngenta's Gramoxone, a non-selective
herbicide for controling annual grasses and broadleaf weeds. This method of weed control helps save on labour costs, but once the spinach plants have germinated, all weed control has to be carried out by hand.
Two weeks after planting, she applied a calcium nitrate top dressing via the drip irrigation system. This was not her first choice; she would have preferred an ammonium nitrate top dressing, but was unable to source it due to the lockdown.
She has also started making her own compost.
"I use chicken manure, grass and spinach plant residue. Once it is ready, I'll apply it during the land preparation phase at a rate of between 2t/ha and 3t/ha. My dream is to be an organic farmer," she adds.
The major pests that need to be controlled in the spinach are cutworms and locusts, and Mahlangu uses flubendiamide for this purpose.
Double lines
"I have a hand planter that is set to plant at 30cm between each plant," she explains. "We do double lines on the spinach, planting at an inter-row spacing of 15cm to allow each dripper line to supply water to two rows of plants."
Drip irrigation is used on open lands, while the tunnels are equipped with overhead sprinklers.
Mahlangu's first crop of spinach and turnips went to market in March. Her closest market is in Springs; after coming to an arrangement with an agent there, she delivered her entire spinach crop there.
"My contract stipulates that I need to deliver 1 000 bunches of spinach a week. The agent collects the spinach from the farm and takes it to the market. The second spinach crop was planted in May, but it perished due to frost.
"According to one of the larger farmers nearby, this year's winter was the coldest he has yet experienced in Gauteng. Their spinach, like ours, suffered major frost damage."
Fortunately, Mahlangu was able to prune the dead, yellow leaves of the spinach, which enabled the plants to produce new leaves when the weather turned warmer.
"I'm also expanding to include green beans, Hubbard squash, mustard spinach and parsley in my crop mix," she says.
This, she adds, will enable her to have a crop that can be sent to market almost every month of the year.
Phone Gugulethu Mahlangu on 073 188 8866.