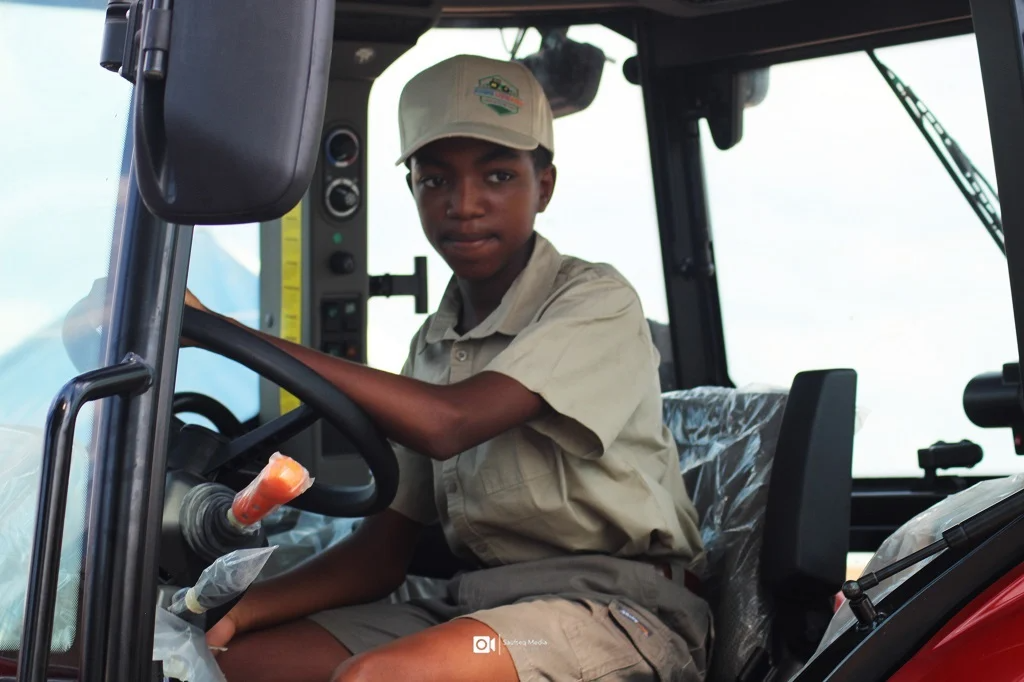 Meet the 12-year-old 'farmer', who is already planting seeds to tackle food insecurity
In Grade 2, Fred Junior Maccarthy realised that he liked farming. At school, he would sit down with his teacher and write stories about his farming trips during school holidays and weekends.
The teacher, intrigued by Fred's interest, told his parents the boy was meant to be a farmer – and the family needed to move to a farm.
Unsurprisingly, the Maccarthy family moved from Johannesburg to the family farm in North West two years ago.
His previous farm, his father's garden of sweet potatoes and free-range chickens in his backyard, had now moved to a bigger plot.
"I am in my dreamland where I always wanted to be," Fred told News24 via phone call from his living room in North West.
Fred, now 12 years old, uses his talent and interests to make a difference in his community.
Through his organisation, Junior Farm Park NPO, Fred hopes to teach other children about the importance of farming to ensure others have the means to put food on the table.
"I want to help people. I saw through the media that children would go hungry. It does not look like they are fed well," said Fred, who is home-schooled.
With his father's help, Fred can now teach children from schools in the area how to farm vegetables.
"They [the children] are interested in driving tractors and learning more about farming. In two weeks, we hope to harvest for the first time. I am hoping we can make a difference," he said.
Making a difference is part of Fred's dream to be a commercial farmer.
"I want to be a commercial farmer and have many tractors. I also want to donate my harvests to orphanages and leave some of my harvest for their homes.
"[This way] I can make sure that their home is fine too," he said.
Fred also hopes to inspire a new generation of commercial farmers through Junior Farm Park.
"I want it to be a place where children can come and learn about farming. He said parents who didn't have money for tractors could bring their children to play with big toys and help them become commercial farmers," he said.
"I would like sponsorship to develop the Junior Farm Park NPO. It will be a lot of money…." he said.
Still, Fred's projects have caught the attention of companies, such as Engen.
The company recently donated R20 000 to support Junior Farm Park, having invited Fred to attend Nampo for his school gardening project.
Nampo is one of the largest agricultural exhibits and allows people to showcase the latest technology and products in the farming industry.
Fred said he hoped the money would buy farming tools and equipment to assist his Garden School Project.
"He has blown our heads [in surprise]," said Busisiwe Maccarthy, Fred Junior's mother.
"For his 11th birthday, do you know what he said he would love for his birthday present? He wanted a piece of land for his farming," said Busiswe.
"When he was 10 years old, we had no choice but to leave Johannesburg to stay at the farm."
She said the family thought he would be an accountant, like his father, but quickly realised he had a passion for farming after reading his stories about his farm visits.
"During Covid, we spent more time on the farm, and his father would carry him on the tractor. They would farm during the school holidays. His dad loves agriculture and taught him about it," she said.
When asked about his future, Fred said he hoped to attend university, where he could study subjects such as agricultural engineering and economics.
"I want to build my tractors and ensure I know everything about farming. I also need [to study economics] to know about money," he said, adding that he had started working towards his private pilot licence because he wants to be a pilot one day.
For now, one can find Fred on his farm every Sunday, preparing the land for farming, or taking what he harvested to his Farm Yard Store.
"On Sundays, I always come back home exhausted after doing my farm work," he said.
Source: News24.com