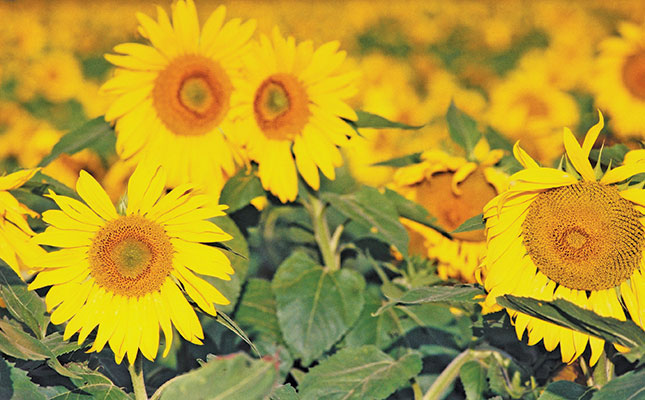 New cultivars could push up sunflower profits
Sunflower (Helianthus annuus L.) has always been an important summer crop in the South African oilseed industry, and over the years it has gained a reputation as an ideal crop to grow under low-input and relatively marginal conditions.
Sunflower is suited to warm and dry conditions, and production is concentrated mostly in the southern, central and western Free State, North West, and some parts of Limpopo. Between 2009 and 2021, the average area under sunflower cultivation in South Africa was 552 000ha, with mean production of 715 000t/year over this period.
The crop works well in rotation systems, particularly in the drier summer production areas, and is adapted to a wide variety of soil types, from heavy clay to sandy loam. This makes it ideal for mitigating production risks.
Other positive characteristics of sunflower are its shorter growing season when compared with maize, and the fact that it can be planted a little later in the season.
On the negative side, however, the general perception is that sunflower is not as profitable as maize and soya bean under optimal conditions. This means that it is often only regarded as a favourable crop under adverse conditions and in situations where farmers are looking at a low-input crop with a more resilient yield than that of other crops.
Sunflower production has therefore remained relatively flat over the past two decades, with the area planted to the crop declining over the past few years.
Lack of research focus
According to a report by the Bureau for Food and Agricultural Policy (BFAP), return per hectare remains one of the key drivers of crop choice, and in most cases, farmers will opt for the product with the highest return (see Graph 1).
Grain SA's production cost comparison between the various sunflower-producing regions in the country illustrates that average variable inputs account for 70% of total sunflower production costs. Fertiliser (29%) and fuel (14%) are the largest cost components, followed by herbicides (11%).
According to Andries Wessels, product development manager at Syngenta, sunflower remains a neglected crop and, due to the location of the crop in marginal areas and the resultant management practices, yield lags behind that of other crops. By contrast, maize is planted in high-potential soils and in general receives far more attention and managerial input to support optimal yields.
Wessels adds that because the breeding technologies and biotechnology that are available for maize and soya bean are not available in sunflower-breeding programmes, yield advances are not as prevalent in the latter.
Just as most seed companies direct research and development funds towards higher-profitability crops such as maize, human resources are also limited when it comes to sunflower, adds Wessels.
Pieter Rademeyer, agronomy manager at Pannar, says: "Sunflowers have reached a certain top-end yield and there's no new technology on the horizon to improve yields in the near future. In the case of soya bean, exciting and innovative technology is on its way to South Africa."
He adds that more research is needed, especially on diseases in sunflower and how to control them.
According to Dr André van der Vyver, executive director of the South African Cereals and Oilseeds Traders' Association, the reduction in sunflower seed hectares over the past few years can be attributed to a decline in profitability per hectare relative to other commodities.
"The increase in maize yields far exceeds that of sunflower seed, which has remained nearly static. This is unfortunate, as sunflower is an especially important commodity given its drought tolerance and higher tolerance for cold towards the end of the growing season. It's also used in rotation with other commodities."
Christin Hunter, marketing communications manager at Pannar Seed, adds that the ability of soya bean to fix nitrogen in the soil also incentivises farmers to grow this crop, especially with the increasing cost of fertiliser.
Disease pressure
Some of the other factors that discourage farmers from planting sunflower are damage caused by birds, weed control challenges, and diseases such as rust, Sclerotinia and Alternaria leaf blight.
"Sunflower production is under pressure due to the outbreak of Sclerotinia, and preventative spraying is a costly exercise," says Rademeyer.
Corné Louw, senior economist at Grain SA, says Sclerotinia has played a significant role in the decline in sunflower plantings. He adds the disease has now also reached the far western production regions where it was previously unknown, and creates production uncertainty.
Another drawback of sunflower compared with maize is that the latter provides significantly more crop residue for livestock grazing. Producers who farm on sandy soils also cannot rely on sunflower crop residue to combat wind erosion.
Changing the status quo
John Odendaal, national marketing manager at Pannar Seed, believes the outlook for sunflower can be improved by putting in place incentives for higher oil content, as profitability will then be judged under different criteria, and sunflower will be weighed up against soya bean instead of maize. Wessels agrees.
"South African sunflower producers must be able to capitalise on high- oil-content cultivars such as SY 3970CL. Over the past two seasons, Unigrain and Sensako have started a new project that completes the value chain, with great benefit to the farmer. In this closed-looped system, farmers are able to realise a premium if they deliver [sunflower] seed with a high oil content to [Unigrain]."
He adds that farmers' ability to become and remain competitive will be determined by their willingness to look at high-oil hybrids, and to reconsider the way in which they perceive and manage their sunflower crops.
Peter Lovelace, CEO of Central Edible Oils (CEOCO), says that during the 2010/11 production seasons, CEOCO realised around 40% oil with the sunflower intake, but lately the oil percentages of the sunflower delivered to the company's oil mill in Boksburg have declined to as little as 35%.
"This has enormous implications for the sustainability of the sunflower oil industry. While our running costs increased, sunflower oil percentages declined, so we had to take in more sunflower to realise the same amount of oil."
Over the past few years, CEOCO has worked with Syngenta to offer more contracts for sunflower seed delivered to Boksburg. "The project has achieved outstanding results, and we're excited about the oil percentages that farmers are realising with the SY 3970CL [cultivar]."
Odendaal says the future of the sunflower industry lies in higher-yield cultivars and those with a high oil content, adding that breeding companies must increasingly focus their efforts on breeding hybrids with a higher oil content.
"Weed management has also been a problem in sunflower production, but Clearfield hybrids are increasingly being planted to assist in weed management," he adds.
Hunter suggests that the industry investigate niche markets for high oleic or non-genetically modified sunflower oil as consumers become more health conscious and demand more transparent labelling. Van der Vyver says farmers are expected to plant more hectares to sunflower in the coming season due to the current shortage of seed and the high prices.
"At the current prices, profitability per hectare exceeds that of maize, but whether this will be sustainable is debatable. I believe there should be a better understanding of why [sunflower] yields have remained nearly static, and what the industry can do to rectify this."
Email Andries Wessels at Andries.wessels@syngenta.com, Pieter Rademeyer at Pieter.rademeyer@pannar.co.za, Dr André van der Vyver at andre.vandervyfer@sacota.co.za, Christin Hunter at christen.hunter@pannar.co.za, Corné Louw at corne@grainsa.co.za, John Odendaal at john.odendaal@pannar.co.za, Peter Lovelace at peter@ceoco.co.za, or Dr Safiah Ma'Ali at MaaliS@arc.agric.za.
Source: farmersweekly.co.za