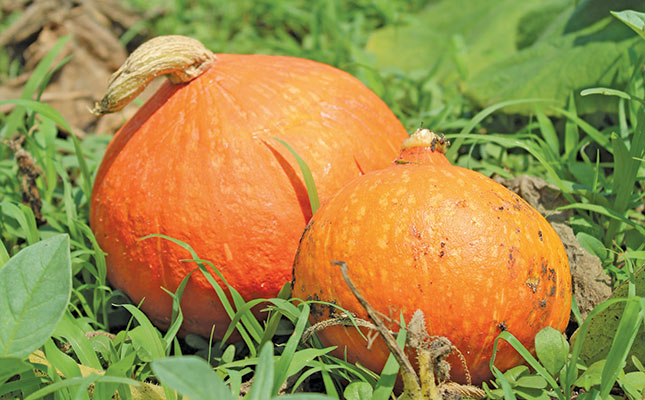 New pumpkin variety set to make inroads into high-end market
Having a diverse basket of produce helps a vegetable farmer reduce production risk and cope with fluctuating market prices. The trick, though, is finding the right mix of vegetables to avoid over-complicating production.
Francois Steyn of JF Steyn Boerdery near Komatipoort, Mpumalanga, is always keen to try new varieties, provided there is a market. As part of this approach, he cultivates close relationships with buyers and third-party packhouses, putting him first in line to hear about new opportunities, and the trust flowing from this gives him greater confidence to try something new.
When he was approached to plant a pumpkin variety relatively unknown in South Africa, the Hokkaido (also called the red kuri squash), he took up the challenge, and has found that this addition to his crop mix fits in well with his production cycles and has a good, albeit small, market.
The Hokkaido is a variety of the Cucurbita family, and belongs to the Hubbard squash group.
"Although it's an entirely different vegetable, the production practices are very similar to those of butternuts, so it's a good fit. It's an easy-to-grow pumpkin with a yield of around 20t in 90 days. It's also a high-yielding variety that produces uniformly sized fruit," says Steyn.
Preparation and planting
JF Steyn Boerdery has 3ha planted to Hokkaido. The land was divided in two and the sections planted three weeks apart to allow for a staggered harvest, as the market is still in its infancy and cannot afford to be flooded.
Land preparation starts with ripping and discing the soil to loosen it. Steyn then ridges the rows to ensure a thicker, soft bedding, and applies the optimal fertiliser formulation, as determined by soil analysis. The ridges are covered with plastic sheeting to reduce moisture evaporation and suppress weeds.
Steyn sends seeds to a nursery for germination and plants the seedlings at a density of 14 500/ ha. This can be increased or decreased depending on the size of pumpkin demanded by the market; the higher the density, the smaller each pumpkin. Steyn's market requires one no larger than 900g.
The seedlings are planted in June, with harvest taking place 90 days later. Steyn says that in the Komatipoort area, the variety is best planted in winter, as it prefers a drier heat.
"Theoretically, the Hokkaido isn't ideal for humid conditions, as we have in this area, but by planting in winter and tweaking cultivation practices, we've been successful."
He explains that the plastic ground covering reduces evaporation and keeps the soil moist, ensuring more consistent availability of water.
"If you allow the plants to dry out, then suddenly give them too much water, the pumpkins are prone to bursting. This is also the case with butternuts. Water applications should be consistent, both in quantity and timing."
Diseases and stress
Powdery mildew and charcoal rot are the two main disease threats to these pumpkins. Steyn controls the former with various registered chemicals, changing them from season to season to prevent a build-up of resistance.
"Charcoal rot is a new problem that has emerged in the area. It causes the pumpkin to start wilting at the crown before it has even set properly. Eventually, the entire plant rots. Fungi in the soil specifically affect pumpkins, taking hold as soon as the plants are under stress or haven't received enough water.
"The most stressful stages are when seedlings are planted out, at flower set and at fruit set, so we have to be extra vigilant at these times to supply enough nutrients and water so the plants are not susceptible to charcoal rot."
Steyn also has the seedlings treated with fungicide to enable them to cope better with planting-out stress, and the soil is treated every second week to keep the charcoal rot at bay during the rest of the plant's cycle.
He says that although the Hokkaido is a relatively new crop in South Africa, it is fairly easy to cultivate.
"But we do need to handle the pumpkins carefully during harvest as they're sent to a discerning market that demands flawless-looking fruit. Because the peel is edible, it's also important to keep it blemish-free."
A budding market
While the Hokkaido has seen remarkable success on European markets and is the fastest-growing product in seed company Enza Zaden's range, the market in South Africa is still in its infancy. Export opportunities abound, but picture-perfect fruit is expected.
If this can be achieved, producers would be able to take advantage of the counter-seasonality of the European market.
Steyn notes that introducing new varieties to South African consumers has always been challenging.
"It's risky planting such crops, because if you can't sell it, it has no purpose. I'll plant anything I have a market for and I decided to give this a go when asked by a retail supplier. Fortunately, it has worked out well and there have been few production difficulties."
Steyn produces Hokkaido for a company that packs fruit and vegetables for local retailers. Most of his pumpkins are destined for a high-end supermarket group.
"Our packhouse and farm is GlobalGAP-certified, but we're not certified to deliver directly to certain supermarkets that require additional audits. This pushes up costs considerably and it's not worth our while to certify ourselves for only one of our products. So I pack the pumpkins into crates on the land, load them onto a pallet in my packhouse, and send it straight to the packhouse in Barberton to be packed for the market. This saves a lot of time and simplifies the process."
The price obtained for the Hokkaido is nearly double that of butternuts, but so is the seed price.
"I might not be making more profit, but the diversification reduces risk. Consumers are moving towards smaller types of pumpkin, and given the convenience of the edible peel, I believe this variety holds much promise," says Steyn.
He adds that knowledge and relationships are key when planting new products for specific markets.
"For me, it's important to build a relationship with my buyers, and trust the people I deliver to. So when they ask me to plant a new variety, I trust that they've done due diligence and will take all of my product. Planting an unknown variety should be done only when there's a solid understanding between parties."
Email Francois Steyn at jfsteyn@yahoo.com.
Source: farmersweekly.co.za