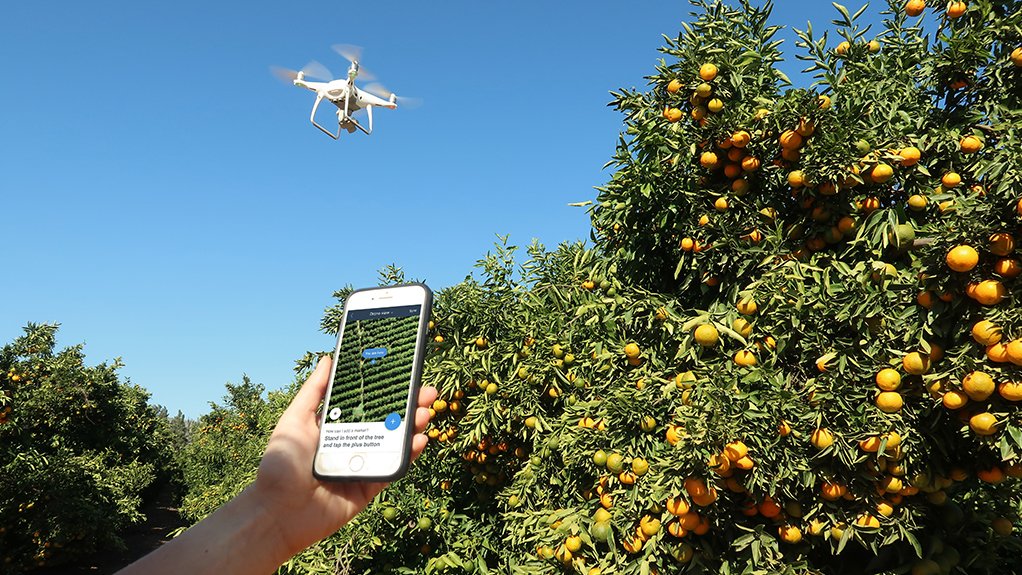 Tech yields beneficial tools for farms
Software company Aerobotics is pioneering solutions, such as its Aeroview infield mobile application (app) and computer vision for the precision farming of perennial crops, as more growers look to agricultural technology to solve labour and input efficiency challenges.
Aerobotics global business development head JC van der Walt says over the past seven years, the company has collected perennial crop imagery from more than 404 685.64 ha and worked with more than 200 growers to identify more than 195-million plants.
Aerobotics provides growers with a yield management platform using imagery and agronomic machine learning models that assist in providing better measurements, management and protection of crop yields.
"By enabling control of production drivers, such as irrigation distribution uniformity and nutritional programs, we're helping growers make data-driven decisions and achieve their target yields," says Aerobotics CEO and cofounder James Paterson.
Earlier this year, the company introduced an end-to-end yield management solution, available on the Aerobotics Web and mobile apps.
The solution enables growers to follow a georeferenced guide to representative samples, where they can create reports on yield size and crop-load data. Growers' sample data is then used to create yield reports for the entire crop field, or orchard and vineyard block, providing a full overview of growth trajectories.
As the reports are available at a block-level, growers can view the growth trajectory of each block and implement tailored interventions so that each block reaches the expected return on investment. This is also to ensure uniform crop development across the entire farm. Growers can use this information and assess the effectiveness of interventions, explains Van der Walt.
Once the growers know their yields, Aerobotics' yield management platform and team will guide growers in making data-driven decisions around water and nutrition. After the interventions have been executed, Aerobotics helps to track the results and improve field or block uniformity.
Sector Challenges
One of the main challenges affecting the agriculture sector is water scarcity.
Global water scarcity is increasing and drought areas have increased by more than 50% globally since 1960, while groundwater resources – the main water source for nearly half of irrigated agriculture – are rapidly depleting, explains Van der Walt.
Through the Aerobotics platform, growers can monitor irrigation across their farming operation. The platform also optimises water use and ensures that all fields and blocks are irrigated as efficiently as possible.
Another challenge impacting on the sector is the increasing cost of fertiliser.
Geopolitical events, such as the Russia-Ukraine war, have affected the fertiliser supply chain. While fertiliser shortages have not yet been experienced, the potential widespread shortages of fertilisers could have a significant impact on crop production.
"Studies have shown that, without nitrogen, phosphorus and potassium fertilisers, yields could drop by more than 40%," says Van der Walt.
The Aerobotics platform enables crop growers to execute variable rate application nutrition strategies to ensure that every input is used optimally and there are not any significant drops in yield.
The platform also assists with the success of crops.
Growers often have limited means to predict the growth potential, performance and longevity of a crop and, generally, have to wait until the end of a season to evaluate these factors.
Aerobotics' artificial intelligence assists growers in tracking yield growth trajectories and making key interventions at the right times. As a result, farmers can save time, reduce costs and increase profitability.
As an end-to-end yield solution, growers and investors in agriculture can use Aerobotics as a risk management platform to protect yield outcomes, says Van der Walt.
While previous Aerobotics platforms collected yield data through drones, the new platform enables growers to take pictures of their crops in the field or their fruit in the orchard thereby collecting yield data.
This enables growers to digitally collect fruit count and size measurements in the field, collect data at a higher frequency and take action at the ideal time to manipulate their crop load.
With the latest fruit measurement and tracking tool, teams on the ground can spend up to 75% less time collecting ten times more in yield data by being efficiently guided to the most representative locations and leveraging the computer vision-enabled mobile app.
"Customers are already uploading thousands of images a week and usage has increased significantly over the past two months," says Van der Walt.
The Aerobotics platform combines high-resolution aerial imagery with individual plant and thermal data so that growers can identify water-related irregularities and problems affecting their crops.
Crop growers can access these insights in the field using the Aeroview InField mobile app. Such insights can help them to detect irrigation-related problems, such as pressure issues and blocked lines, as well as improve efficiency on the ground by knowing exactly where to make improvements.
Growers can also identify inefficient water and fertiliser allocations that cause variability in production, which can guide them to potential problems on the ground faster, enabling them to make corrections and ensure that crops are being efficiently irrigated for optimal yields.
"One of our founding principles at Aerobotics is 'farmers first' and we're excited by the interest customers are showing in our approach to managing yield," concludes Paterson.
Source: Engineeringnews.co.za